Down on your luck when it comes to sports bets? Or maybe you're a newbie that likes the idea of being the next Wolf of Wall Street in the sports betting world? Either way, you've come to the right place. Knowledge is power, and we're here to provide some pro tips on how to win at sports betting. 
The first step to becoming a successful online sports staker is to not follow the crowd. It's no secret that online sportsbooks make money by attracting casual sports fans using the latest line of the next big games, with newbies rarely taking a minute to think if the odds are good value or not. Smart marketing from sportsbook operators ahead of huge major league sporting events can attract any sports bettors in – even if the odds are against them.
At OddsIndex, we're going to help flood the zone to get you thinking outside the box. Becoming a winning sports bettor isn't automatic, but by picking up these seven tips, you can get a headstart on the average bettor from day one.
How to be Successful in Sports Betting: 
Find errors made by sportsbook traders
Sit down with any profitable sports bettor to get the lowdown and you'll find out their number-one priority will be to find value in the markets. It doesn't matter whether you bet on the NFL or college basketball, a profitable sports bettor won't place a bet unless they think the odds offer value.
Value isn't necessarily a golden, one-way ticket to 100% strike rates on your sports betting. We're talking about odds on a sporting outcome that pay more than they should, based on the implied probability of the outcome happening.
Sports betting odds are usually based on implied probability. If there was a 50% chance of Team A winning a game, their odds would usually be +100 in the Moneyline – or a little less than that, because sportsbooks factor in their own margin. A good sports bettor will look for opportunities where Team A has a 60% chance of winning a game (or more), but their odds are +100.
There are times when a sportsbook's traders price up games incorrectly – and if you have a strong grasp of a particular sport or league, you can take full advantage and grab those value positions.
This also ties into the concept of beating the closing line or closing line value (CLV), which is when a bettor is able to place a wager at a higher price than the last traded price for any given event.
This practice entails a lot of research and homework in advance, as prices tend to fluctuate less aggresively as an event approaches - so for an NFL game that takes place on Sunday, you would be more likely to beat the closing line by shopping for odds a few days in advance rather than on the day or the days before.
Understand the concept of expected value (EV)
Those who are looking for tips on how to always win at sports betting are big believers in the power of EV. Successful sports bettors look for positive expected value from their bets. Coin flips are a prime example of something that has a "neutral" EV. That's because, for every $1 you'd get for going for heads, you'd be giving up the same amount when it lands on tails over the long term, which would end with you breaking even.
If you were to pay us $1.10 for every time a coin landed on heads, but we'd still only pay you $1 for every time it lands on tails, the EV moves into positive territory for us. Given the 50/50 probability of a coin toss, long term we would win $1.10 50% of the time ($55) and lose $1.00 around 50% of the time ($50) – a profit of $5 from 100 bets. This means that each flip of the coin carries a positive EV of $0.05.
Big sports stakers look for value odds to give themselves long-term positive EV. Sure, they'll have losing value bets along the way, but if they continue to find value odds that are better than the implied probability of it happening, you stand a better chance of becoming a winner over time.
Adopt a strict approach to your bankroll management
The key to making your sports betting bankroll last longer is to avoid putting it at risk over one or even a handful of stakes. Just like an expert financial trader would use only 1-2% of their capital per trade, successful sports bettors will do the same. Many will break up their bankroll into 100 units and bet one unit per game. This way, you'd have to be really unlucky to place 100 losing bets in a row to blow your entire betting bank. Even if you go on a small losing run, your overall bankroll lives to fight another day.
Some will adopt the Kelly Criterion strategy when betting to maximize the potential returns on a bet and reduce the risk. This is a formula that you have to apply each time you prepare to place a bet. It determines what the size of your stake should be to the probability of the stake winning. Math time:
(bp – q) / b = f
b = The multiple of your stake available to win from the current odds
p = The implied probability of the bet winning (e.g. 30% = 0.30)
q = The implied probability of the bet losing (e.g. 70% = 0.70 if the chance of it winning is 30%)
f = The answer to the formula, showing the size of your bankroll that should be used on a single bet
Be flexible to limit your losses and guarantee profits in-play
One of the biggest advantages of sports betting online is that most leading online sportsbooks now offer a cash-out facility. This gives you a chance to take a profit or loss on your pre-game stake when the event is live. This isn't a luxury offered to bettors at retail sportsbooks, who have to sit and let their bets run to the end.
The cash-out feature can be helpful when sports staking for two reasons. First, it lets you take a percentage of your overall expected profit in play. This is useful if you're watching the event live and believe your pre-game selection looks less likely to win once the towel is thrown in. Let's say during the last Super Bowl, your pre-game bet on the Chiefs to beat Tampa Bay looked good (they were the favorites after all). But then Tampa fought their way back into contention and began to dominate. You could have used the cash-out facility early enough to potentially lock in a small profit at the start before the game slipped through Mahomes' fingers.
Something else to remember is that you can use the cash-out feature to limit your losses too. Let's use the same example. If you didn't cash out early on, you could have used the cash-out function to take a percentage of your overall expected loss instead of letting it run to the end if you were more optimistic about a Chiefs comeback.
But cash-out generally has vig built in, which means that you are also giving a lot of free value on your bets (winners and losers both).
Don't go seeking thrills if you want to be a winning sports bettor
Many will tell you that winning long-term starts to feel less exciting – and that's a good thing. It's important to remove the emotion from your sports betting to make calm, calculated decisions. Serious sports bettors are systematic about how they choose their bets.
Those who want an adrenaline rush from their casual stakes are more likely to stake on events where the odds aren't in their favor or worse, a same game parlay with the hope of landing a moonshot! If that's your idea of fun, that's fine, but don't expect to win long-term betting on last-minute touchdowns that probably won't happen!
Take advantage of the best welcome bonuses from eligible online sportsbooks
If you want to boost your potential sports betting bankroll, there's no better way than signing up for the growing number of welcome bonuses offered to new customers at leading sportsbooks online. Some operators will give you a no deposit bonus as an immediate reward for signing up. This is free bet money that can build a betting bank without having to deposit any of your own money upfront.
If you're prepared to make a real-money deposit of your own, there are lots of deposit match bonuses out there. The most common are 100% deposit match offers, meaning the sportsbook will match your initial deposit cent-for-cent, up to a maximum deposit limit. This virtually doubles your betting bank.
Remember, there are catches with the bonus funds applied to your accounts. These include betting requirements, where you have to roll over your bonus a set number of times before it can be withdrawn. The winnings from free bet bonuses rarely contain the free bet stake – only the winnings from the free bet.
Open accounts with multiple online sportsbooks to pick the best odds
You need to find the best odds out there. You don't have to be loyal to one sportsbook, so always have accounts with other online sportsbooks so that you can look at the markets on offer and then make your selections. There is no limit to how many online sportsbooks accounts you can have. Just remember that multiple accounts with the same sportsbook are off-limits.
Once you've got multiple accounts set up, using a tool like The Index, can identify the best odds on sports betting. There is no point in limiting your options and not taking full advantage of this.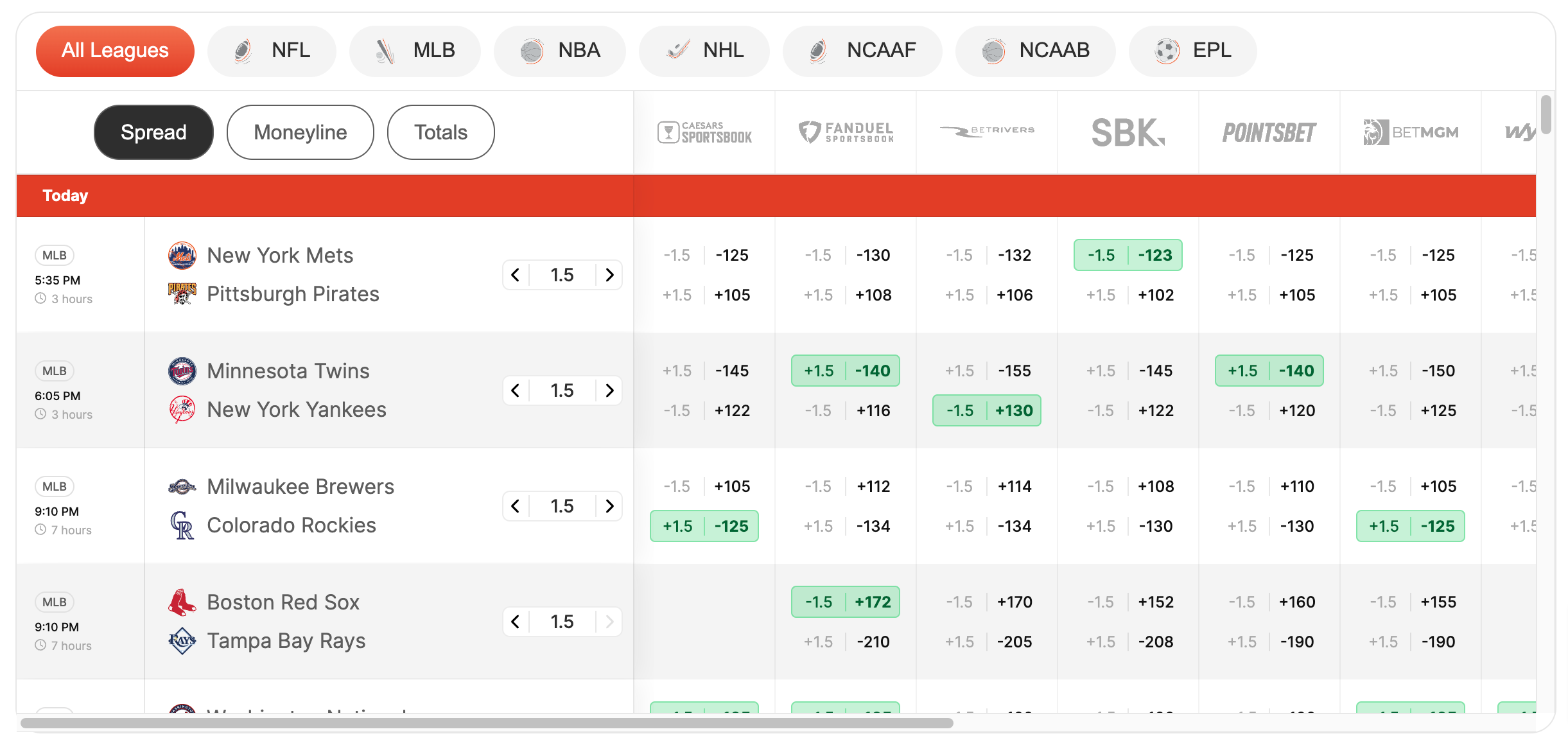 With these seven important nuggets of sports betting gold, you'll be able to use these tips to keep your eyes on the ball – giving you an edge on everything from the Super Bowl to the Stanley Cup.
FAQ
How to Consistently Win at Sports Betting?
Consistently turning a profit is satisfying, but not guaranteed. Your best bets will be playing within your strengths and removing emotion from nail-biting long shots. Bettors can also implement strategies to manage their bankroll like the Kelly Criterion. 
How to Research Sports Betting?
It seems obvious, but you'll feel more confident if you live and breathe the sport. Our betting resources cover the latest games along with recommended bets to give you the upper hand.