Depositing and Withdrawing
When wagering with Barstool Sportsbook, you'll need the following info before you can register an account and deposit funds:
Name
Age
Address
Email
Phone Number
Social Security Number
When it comes to methods of payment for depositing funds into your account, Barstool Sportsbook is pretty good with their selection:
Apple Pay
Cash (Land-based sportsbooks)
Credit card
Debit card
Online banking transfer
PayNearMe
PayPal
Prepaid Play+
Skrill
VIP Preferred
One of their perks is that the minimum deposit accepted by Barstool Sportsbook is $10, which is lower than most rivals. It's worth noting, however, that Barstool Sportsbook could be considered a step ahead in that you don't need to meet a deposit stipulation to qualify for their promotions. When it comes down to it, this is probably one of the key strengths of their sportsbook.
Unfortunately, there are certain exceptions to these transaction methods. For example, residents of Iowa can't place a deposit through a credit card due to state legislation. Additionally, Tennessee only permits debit cards, not credit cards, as a method of deposit. The majority of methods will be instant, although eWallets may take slightly longer.
You can withdraw funds from your Barstool account via the following methods:
Cash (Land-based sportsbooks)
Credit card
Debit card
Online banking transfer
PayNearMe
PayPal
Prepaid Play+
Skrill
VIP Preferred
I like the fact that you don't have to pay for withdrawals via any of these methods. Barstool Sportsbook also has a minimum withdrawal starting at $10, with the process taking only a matter of hours or days depending on your chosen method.
Read the terms and conditions on the Barstool Sportsbook website or app before getting started - boring I know, but you don't want to get caught out. I found the withdrawal process very smooth using online banking transfers in New Jersey. Different states do have regulations regarding transactions, so make sure you're using the correct method to receive your funds as quickly as possible.
Barstool Sportsbook respects the health and safety of their customers by having several ways to help ensure that things don't get out of hand, including:
Deposit Limit
Spend Limit
Daily Time Limit
Cool Off Time Limit
Maximum Single Wager Limit
Withdrawal Control
Timeout
Self-Exclusion
There are also dedicated pages on their website and app that feature links to support pages and helplines for gambling addiction. In spite of some recent controversy regarding their marketing and messaging, I believe Barstool Sportsbook has gone above and beyond to ensure the safety of customers when gambling. The instructions are clear and precise for anyone that has doubts regarding their health when gambling online.
The Mobile App
I used the Barstool Sportsbook app on my iPhone, so my experience with their product is limited to Apple. I found the app to be everything I needed to get started as the appearance was easy on the eyes, rather than overwhelming like some other betting apps are.
I had a few issues with the speed of the app, but markets were generally easy to find and then bet on. Other Apple users agreed, rating the Barstool Sportsbook app at 4.8 out of five. Overall, Barstool seems to have nailed the product on Apple devices.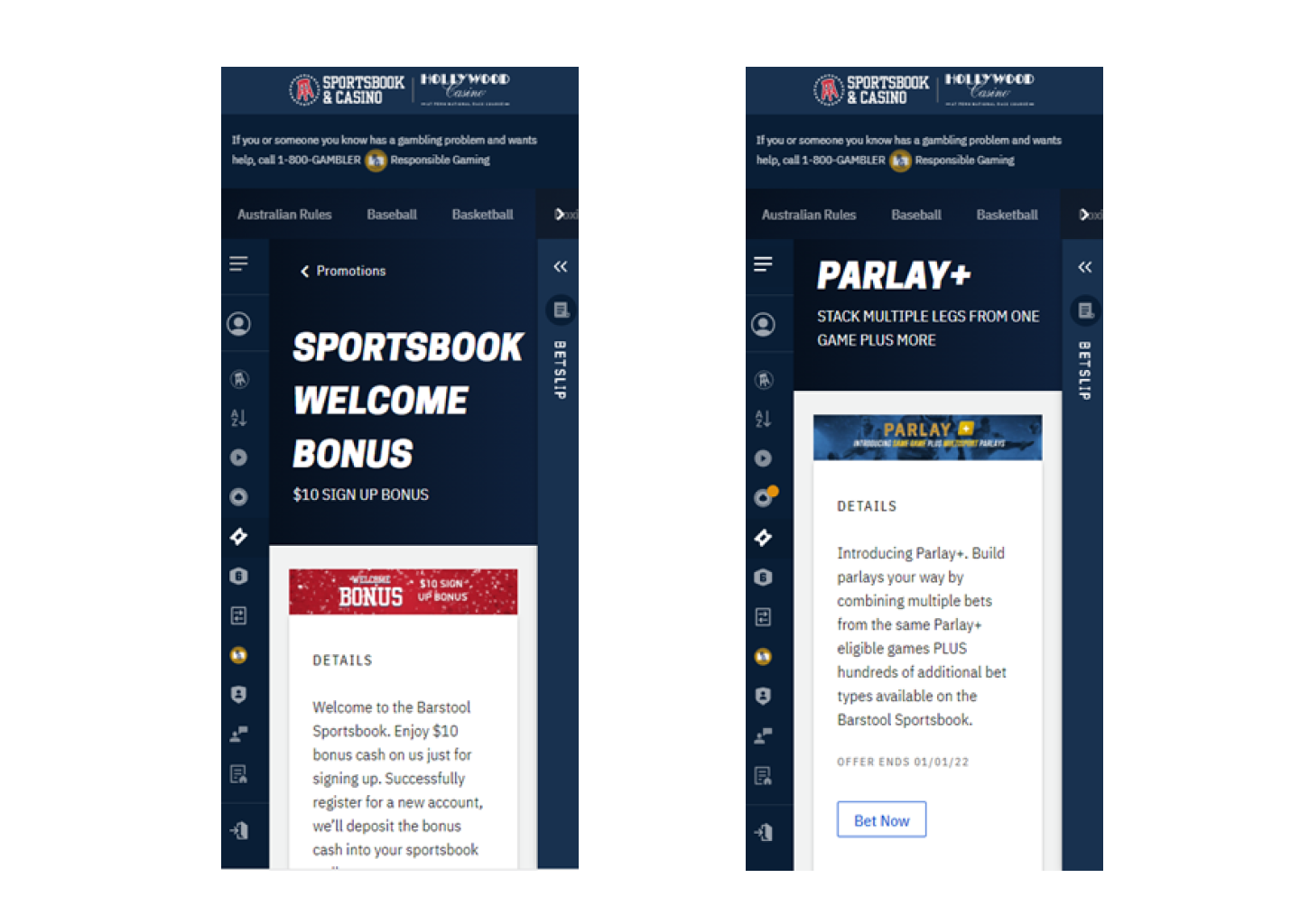 The same can't be said for Android users, but Barstool Sportsbook isn't alone in its struggles there as many of its competitors have also had issues with Android devices. One issue is its lack of functionality, with the app crashing out of play more often than the Detroit Lions this season. Problems with withdrawals, both with the process and the speed through the app, make the Android app a key improvement area for Barstool.
The iOS app's design blends in well within the Apple ecosystem which was a positive for users, but I hope that Barstool resolves the issues with the Android app functionality quickly, for the sake of players that don't care to spend thousands of dollars on the latest iPhone.
Barstool provides mobile sports betting in Arizona, Colorado, Illinois, Indiana, Michigan, New Jersey, Pennsylvania, Tennessee, Virginia, and West Virginia.
Betting Options
Parlays
I'm gonna get technical on you now, but something I liked about the Barstool Sportsbook was their use of parlays. Whether it was through their Quick Pick Six feature or the Can't Lose Parlay, they were easy and quick to use. Barstool Sportsbook has all the options covered for parlay betting on the major sports, ensuring that you can include a variety of markets to boost your odds on NFL, NBA, MLB, and NHL wagering.
Same Game Parlays is the latest feature that Barstool launched and it's one that brings them in line with the other leading sportsbooks. These bet builders allow you to construct your own parlay within one game, using wagers like the moneyline, over/under and individual/team prop bets to put into a single parlay wager. Sometimes, your odds can be boosted so it can provide better value than placing single bets on each market. It's a good sign that Barstool is following the latest sports betting product trends.
Barstool Sportsbook offers regular boosts on the major US sports, which is music to my ears. I was happy to see that they provide these options to enhance your odds. Depending on the sport you will find these options highlighted on certain days or games.
For example, the NFL boosts are on Sundays, while NBA boosts are available when there is a good raft of games on a particular day (look out for these at Christmas). Finding value in betting on major sports can be difficult at times, so it's good to see that Barstool Sportsbook doesn't let us down here.
Live Betting
Barstool Sportsbook has an excellent range of options for live betting as all major sportsbooks should. These markets can be basic at some operators, but Barstool Sportsbook opens up the moneyline, spread, over/under, and a number of prop bets during games on the major US leagues. It's great that I was able to bet on the next touchdown scorer in NFL games, while similar options are available on MLB, NBA, and NHL games.
The Vig/Juice Comparison
Barstool Sportsbook provides less value on its odds generally, compared with its competitors, across the board for all of the major US leagues.
Barstool Sportsbook ranged around 5% mark on NFL games on the moneyline and 4.7% for spread betting. I found similar values for the NBA and NHL, so this is definitely an area where they can look to improve when compared to SBK, FanDuel or even Caesars, if they wish to cater to more price sensitive customers.