Depositing and Withdrawing
As SBK doesn't have a physical presence in Colorado or Indiana, all of the payment methods they accept require some kind of online action. The flipside of that is that they accept higher deposit limits, and have made a determined effort to process withdrawals as quickly as possible – just 30 minutes, for example, when requesting a transaction via Visa debit or credit card.
Here's a list of the payment methods that SBK currently accept:
Visa debit/credit
PayPal
Skrill
Wire transfer
When it comes to making a withdrawal, you can claim a minimum of $10 (it's $100 for wire transfer) and there are some high limits too – $10,000 for Visa withdrawals and up to $25,000 via PayPal.
Here's how the payout times shape up:
| Withdrawal method | Expected time |
| --- | --- |
| Visa Debit / Credit | 30 minutes |
| Paypal | 1-2 business days |
| Skrill | 1-2 business days |
| Wire Transfer | 1-2 business days |
Right now, you can only sign up for a new player account via the SBK app. The SBK team will verify your account, but if they do require extra authentication then they may ask for a copy of your passport, driver's license, or social security card to confirm you are who you say you are.
Don't forget too that they will need to check your location via your GPS – make sure you have location settings turned on.
When it comes to managing your betting, SBK offers many responsible gaming tools that you can see detailed in their FAQ. You can follow instructions to set deposit and loss limits, and you can also learn how to set up a timeout or a self-exclusion period if you want to take a break.
All things considered, I found making deposits and withdrawals from my SBK account to be straightforward – and incredibly quick, too. It would benefit from more payment options, but, for the payment types they do welcome, the process went without a hitch.
The Mobile App
As we now know, the SBK sportsbook is only currently available in its app form… so it's handy that parent company Smarkets have invested the time and resources into making it a quality platform.
The little heading buttons at the top of each page are helpful if, like me, you like to be able to switch between sports quickly. There's also similar navigation to flick between pre-event and live markets, so all bet types are only just a few taps away.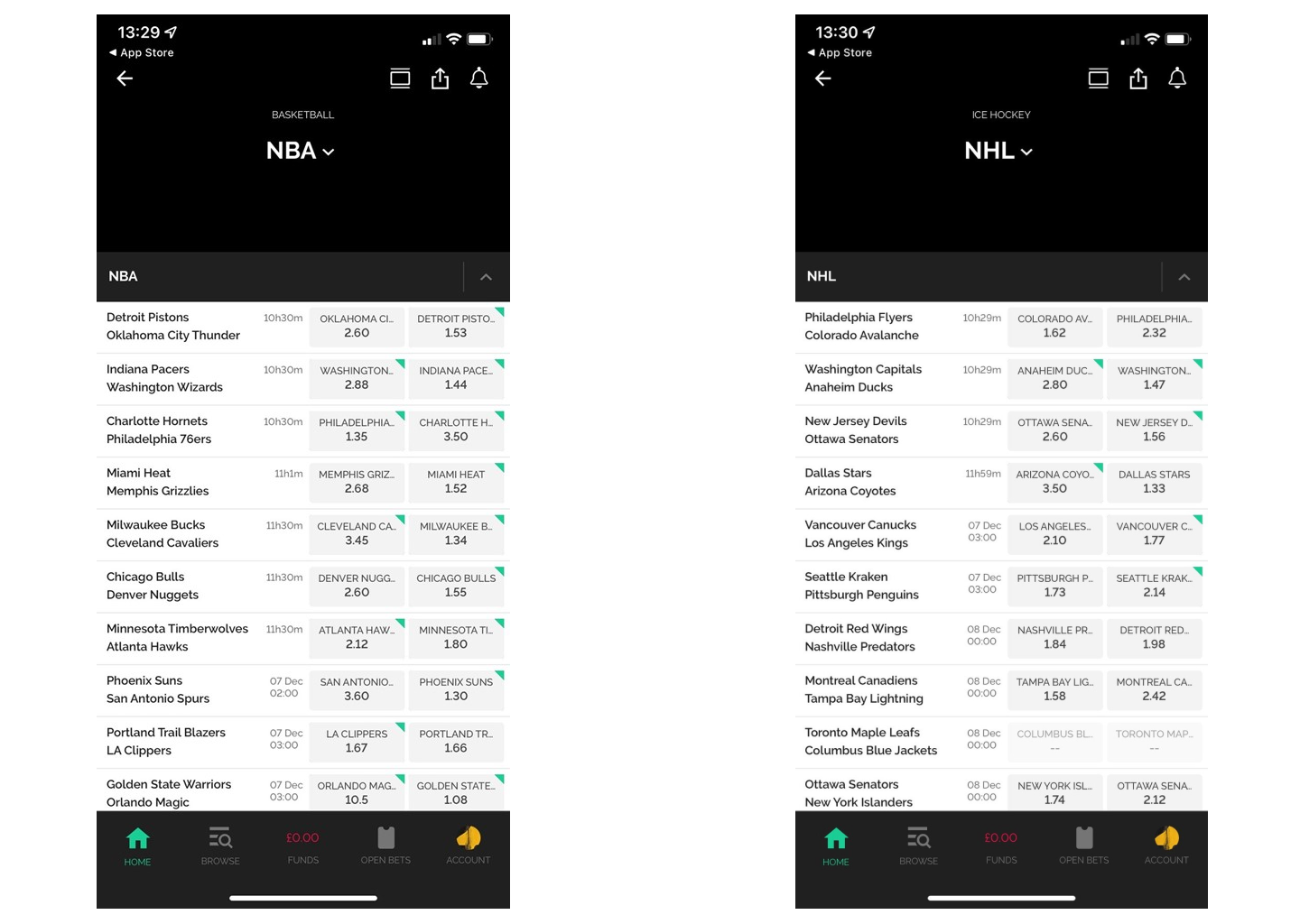 Smarkets have been around for a good few years now in the UK market, and you can tell that they know their stuff – they have given the SBK app a clean design, ensured that pages load fast, and that live odds are updated with no delay. When you use the application, you feel like you're in safe hands.
One big difference between SBK and its rival apps is the social aspect. You can share betting tips from your profile, and you can attach the bets you've placed, so you can show other bettors that you've put your money where your mouth is. You can also follow other users and see what tips they're offering, as well their recent betting form - that's a useful way to see if their tips are worth backing. Once you've followed some bettors, you can access their latest tips from the menu on the app's home screen.
You can also access tips right from the betting pages. Select an event and then you'll see an option to view all the tips that other bettors have offered on that event, right alongside the markets available. From there you can bet with or against a particular tip, adding it to your bet slip with one tap, and you can view a bettor's profile to see more about them and their other tips.
As a rule, I'm against introducing social media to apps or websites for the sake of it, but in SBK's case it really works. It's not obtrusive in any way, so you won't have to deal with an endless feed of status updates - the feature is simply there if you want it. If you don't want to use it, then your betting experience won't be impacted at all.
I loved using the SBK app, and although it would be good to see some stats along with the tips, it didn't bother me that there's no desktop version of the sportsbook. Overall, my opinion seems to be shared by others. The SBK app is currently rated 4.4 out of 5 on the App Store, although Android users are a little less enthusiastic and have scored the app 3.5 out of
Betting Options
SBK has a good range of sports and markets to choose from, and if what you're looking for isn't present in the Top Events on the home screen, you can browse from a long list of markets from the menu. The major sports are all covered in depth, and if you want to look beyond the NFL, NBA, and NHL (or college ball), you'll find markets on many different leagues from around the world.
While they win on their range of markets, SBK don't have the same depth as some of their US-focused rivals. Markets for college sports are a little thin, for example, and also the coverage of 'sub' betting markets, i.e. player props and game options, is a little less extensive.
Thinking about extra features, it's always nice to see cash out offered. I have used this to lock in a profit (or cut my losses when my wager isn't looking that great!), so it does add value to your betting.
However, I was disappointed not to see live streaming on the app – I like to watch the action before entering the market sometimes, and I can't really advocate anybody using the 'Auto Acca' feature, which basically builds a random parlay for you. This is a tool that I can imagine works very nicely for SBK's profit margin!
Odds Comparison
When it comes to their odds, I'm going to make a bold statement but it's one that rings true – SBK is one of the most generous sportsbooks in the US. Pick any of the three 'main' competitions – the NFL, NBA, and NHL – and the fact remains that SBK has one of the lowest vig rates in the game. They're way ahead in the NFL in particular:
| Sportsbook | Moneyline | Total | Spread |
| --- | --- | --- | --- |
| SBK | 2.3% | 3.1% | 3.6% |
| TwinSpires | 4.6% | 4.8% | 4.4% |
| BetRivers | 4.6% | 4.8% | 4.4% |
| Draftkings | 4.5% | 6.3% | 5.2% |
For the Moneyline market, SBK applies half the juice of its rivals. SBK also leads the US market on NFL spreads and totals, and they are also the best prices bookie across the board in the NBA.
While the NHL odds are slightly more in-line with their rivals', SBK still leads the way in the points total market with their industry-low vig of 3.8%.