Depositing and Withdrawing
You'll need to pay close attention to the payment and withdrawal options available to you on FanDuel, as they differ between states. For example, in many states, Visa and MasterCard can be used to make a deposit, but they can't be used for withdrawals. That could prove inconvenient for anyone who doesn't rely on PayPal or similar.
Some of the more universal payment methods available across the country include:
PayPal
Venmo
Prepaid card
PayNearMe
Online banking
Wire transfer
eCheck
Check
Withdrawal times are good, (unless you're paying by check):
| Withdrawal method | Expected time |
| --- | --- |
| PayPal | Up to 48 hours |
| Venmo | Up to 48 hours |
| Prepaid card | Up to 48 hours |
| Online Banking | Three to five business days |
| Check | 7-10 business days |
Typically, the minimum withdrawal is $25 per transaction, and there is a maximum withdrawal of $10,000 per request, although that could be increased with a wire transfer.
I found it quick and easy to sign up for an account, and I was only asked to provide basic details (name, address, date of birth, SSN). This process also verifies your identity, so there's no need to provide further documentation.
You can access FanDuel's responsible gambling page through the ribbon at the top of the website, as is the standard these days. All the usual options are there: daily, weekly, and monthly deposit limits; self-exclusion; timeouts; contest entry alerts. FanDuel also has a feature called Reality Check, which will give you reminders of the time and money you've spent, a feature not offered by many other sportsbooks.
The Mobile App
You can download the FanDuel app on Android and iOS, and much like the website, it's well laid out and easy to navigate. On the home screen you'll find a bunch of quick links at the top of the page, through which you can view all the markets for particular sports, as well as promos, boosts, and live bets. It's a simple layout but it makes it easy to find specific sports or markets.
The rest of the home screen is taken up with the big games of the day and the markets available on them. Another slider lets you switch between sports and see at a glance what games are scheduled. If you're still struggling to find the sports you're looking for, you can simply view a list of all sports using the menu at the bottom of the screen.
You can watch live streams with FanDuel too, which is a huge benefit if you want to bet on live action. Sports like ice hockey, tennis, darts, and more are available to watch, with the action displayed in a clever way that allowed me to select from the in-play odds that are shown below the video playback screen.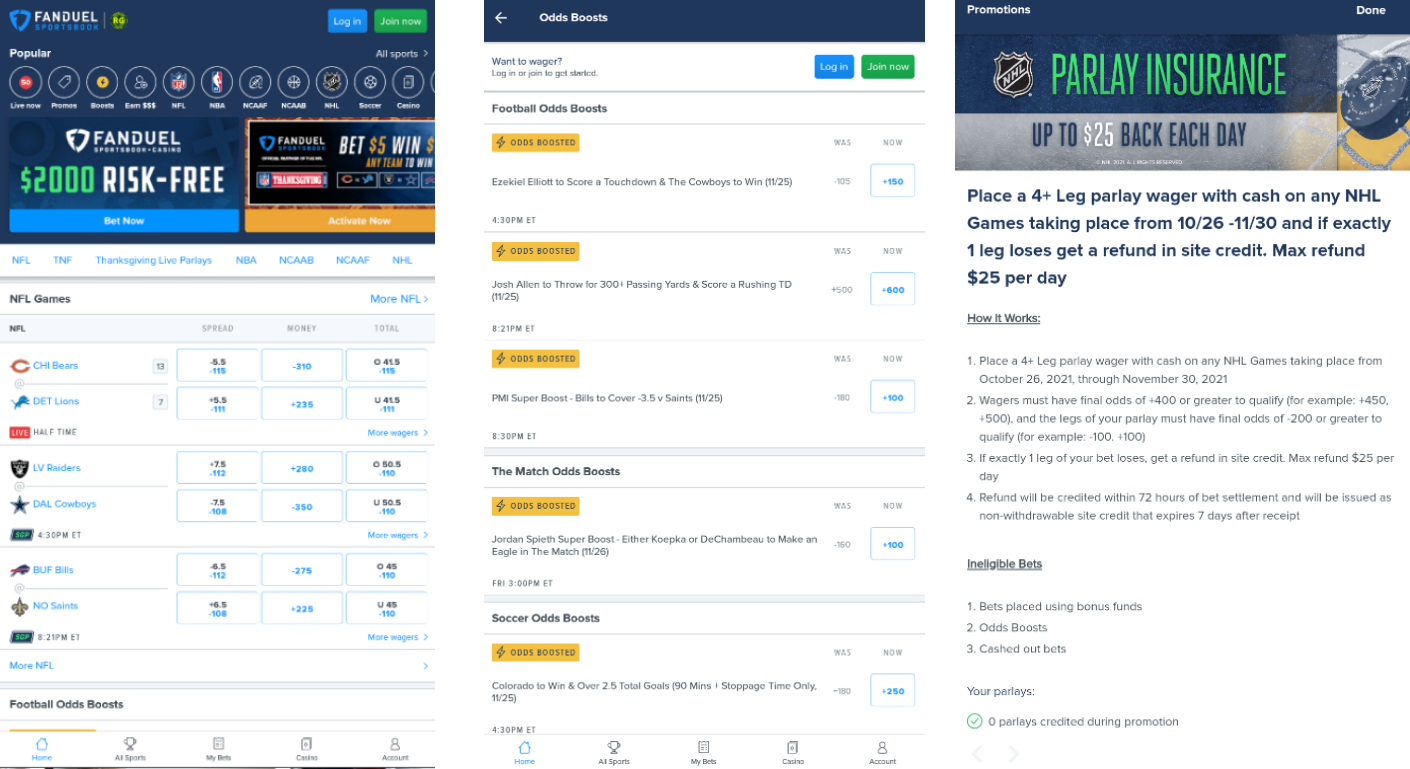 The FanDuel app's ease of use and simple layout are clearly a hit with sports bettors because it's currently rated 4.7 stars out of five on Google Play, and 4.8 out of five on the App Store.
Betting Options
FanDuel largely concentrate on the major US sports, as you would expect: the major leagues and college sports are all front and center on the website's home screen. If you're looking to place a Spread, Moneyline, or Total bet on one of the day's ball games, you'll be able to that in just two or three clicks.
Beyond that, there's a broad selection of other sports available to bet on too. Everything from Aussie rules to table tennis is covered, so it's likely that you'll be able to find the sports you're looking for. There's also a racebook for those in New Jersey, too. You might be able to find one or two sports elsewhere that aren't available on FanDuel (lacrosse, pool), but it covers most bases.
One of the most pleasing features of FanDuel's product is the depth of their betting markets in major sports. If I take the NBA as an example, there's the standard moneyline, point spread, and over/under options. But there are also stacks of player props including points, rebounds, assists and three-pointers, team props, match parlays, and specific markets for each half and quarter of the game.
Using the Same Game Parlay tool, I was able to build my own bets easily, which is something that can get messy on other sites. For the NFL, I could combine all manner of options, including moneyline, spread, and total points with first/anytime touchdown scorer, quarter winner, total points per half, and so on.
The best sports betting sites make it simple to place a wager, and FanDuel has nothing to fear from the competition in this respect. It took just three clicks for me to go from the homepage to the NFL and to select the Tampa Bay Buccaneers moneyline selection, and a fourth to confirm my wager after entering the stake. It's quick, easy, and removes the hassle of placing a bet – not all online sportsbooks can say the same.
Odds Comparison
It would be unfair to call this site either the best or worst sportsbook in terms of the odds they offer. I found some good odds on here, and others that left me underwhelmed, so I would recommend comparing to another betting site before placing a wager, at least until you get a feel for the areas where they are most competitive.
A look at how FanDuel's vig compares to their competitors confirms that they are about average when it comes to the value they offer:
The juice on the NBA is 4.0% on Moneyline bets and 4.5% on Totals and Spreads – all industry standard, and you won't find any other sportsbooks that offer noticeably better.
Same goes for the NFL: there's a 4.0% hold on Moneyline bets, and 4.5% on Total and Spread bets. The difference here is that DraftKings – FanDuel's closest rival – has a vig of 6.3% on NFL Moneyline bets, so there's a big incentive towards FanDuel for any DFS players crossing over to sports betting.
There's a bit more variance between sportsbooks when it comes to the NHL, and FanDuel is slightly worse in these markets. The juice on Spread bets is 5.0%, worse than all but three of the ten other sportsbooks I compared. They're more competitive on Moneyline and Total bets, but still slightly below average.