Depositing and Withdrawing
Before you can bet with Caesars Sportsbook, you need to register an account. To do this you have to provide the following information about yourself.
Name
Age
Address
Email
Phone Number
Social Security Number
After entering your personal information you will then have to enter a method of deposit. Caesars Sportsbook has a vast array of options for you to do this securely:
Caesars Sportsbook Prepaid Play+
Cash (Land-based sportsbooks)
Credit card
Debit card
Online banking transfer
PayNearMe
PayPal
Skrill
VIP Preferred
The minimum deposit that Caesars Sportsbook accepts is $20 and the maximum depends on the method of payment. The majority of these transactions are instantaneous, although Skrill payments may take up to 24 hours to process. This is common across most betting sites, although the minimum deposit of $20 is slightly more than others require. Overall, depositing funds into my Caesars Sportsbook account was a smooth process.
Withdrawals can be processed through the following methods on Caesars Sportsbook.
| Withdrawal method | Expected time | Minimum Withdrawal | Maximum Withdrawal |
| --- | --- | --- | --- |
| Online banking | Up to 72 hours | $20 | $5000 |
| VIP Preferred | Up to 72 hours | $20 | $5000 |
| Skrill | Up to 72 hours | $20 | $5000 |
| Paypal | Up to 72 hours | $20 | $10000 |
| Cash | Instantaneous | $20 | $10000 |
| Prepaid Play+ Card | Up to 72 hours | $20 | $5000 |
I found that Caesars Sportsbook's methods of withdrawal match up with the rest of the industry. Most importantly, there was no fee for withdrawing funds from my account. The process was smooth and my earnings were returned to my account quickly.
One word of caution, different states have different regulations regarding payment methods. For example, cash withdrawals are only available in locations with physical sportsbooks such as New Jersey, and Skrill withdrawals are not available in Colorado.
Caesars Sportsbook has made a commitment to safe gambling and provides the following methods to ensure the safety of its bettors:
Deposit Limit
Spend Limit
Daily Time Limit
Cool Off Time Limit
These are key attributes in protecting gamblers from the dangers of overspending, putting their financial and mental health at risk. Caesars Sportsbook also provide a period of self-exclusion that allows bettors to take a break from gambling for three to 30 days. More serious measures are available by contacting Caesars Sportsbook directly. However, these are standard across the industry.
The Mobile App
For clarity, I have an Android and was using the Caesars Sportsbook app from the Play Store. I found the app to be an excellent product. I had no difficulty finding betting markets or bonuses. I was able to bet with relative ease, while performing transactions was painless. The app is easy on the eye and designed well. The functionality was on the mark too as I experienced no bugs or problems with speed. However, I am aware of recent criticism in the reviews on the Google Play Store, with most of that revolving around customer service and functionality issues, so it's an area they need to focus on.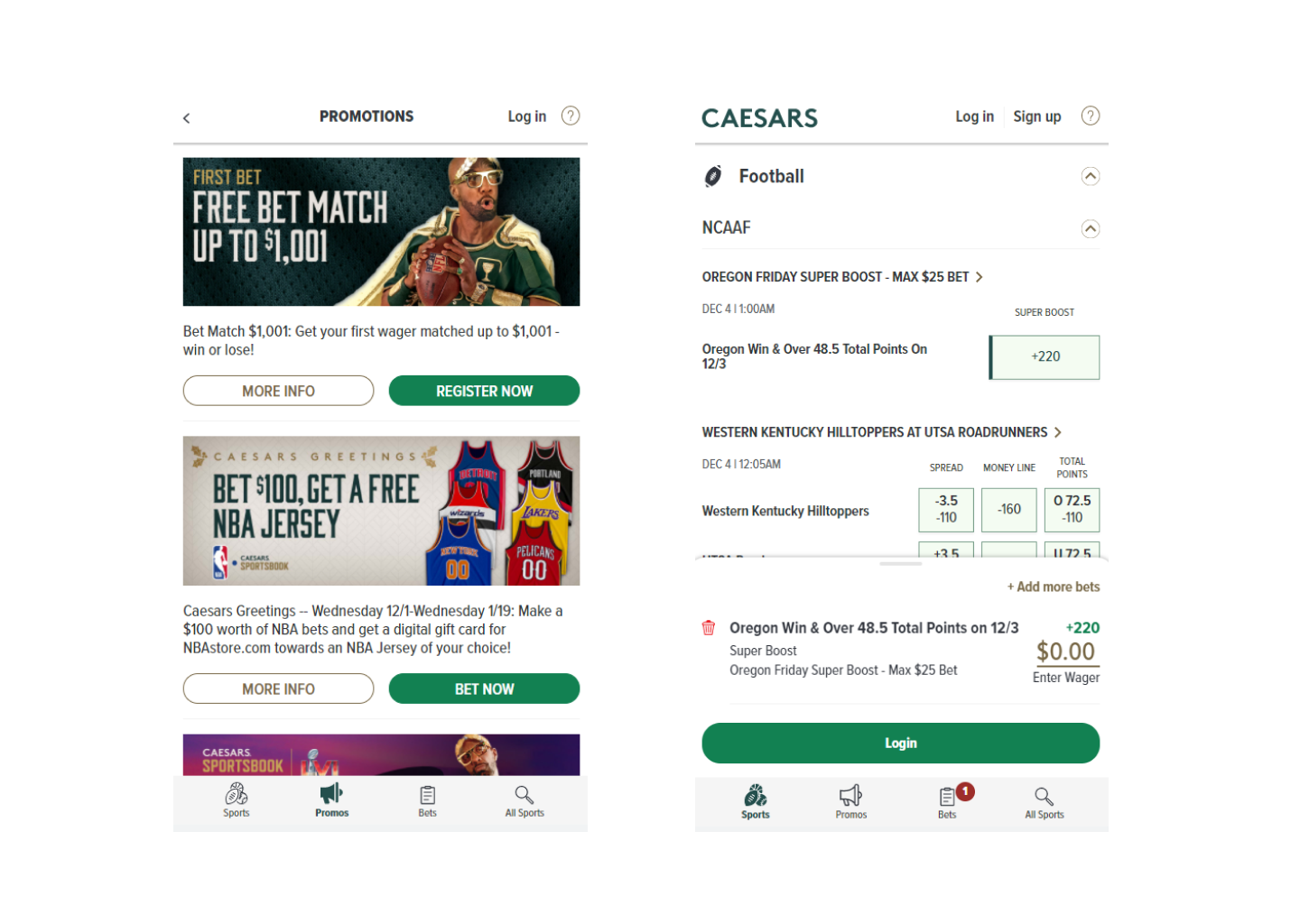 The App Store has a few similar reviews, but it appears to be more mixed with plenty of customers praising the markets available, promotions and the functionality of the app, which is unsurprisingly why it's rated at 4.6.
Remember that mobile wagering is not available in all parts of the United States. Therefore, bear in mind your location before you attempt to log on to the app because it will not work if you are in a state that does not permit mobile wagering. It's available in New Jersey, Pennsylvania, Indiana, Arizona, Colorado, Iowa, Michigan, Tennessee, Virginia, West Virginia and Illinois.
Betting Options
I believe that Caesars Sportsbook is one of the best sportsbooks out there when it comes to odds boosts, if not the best on the market.
It seems as though every major US sport is boosted when it comes to placing a wager on an individual game whether it be the NBA, NFL, MLB or NHL, with an example being the Cowboys to beat the Saints and Dak Prescott to have over 1.5 passing touchdowns at a price of +135. If the boosts are not enough, there are also targeted free bets for special occasions, which allow you to wager with freedom, knowing you're covered if your selection fails.
The major US sports are covered, both the professional and college disciplines as you would expect. However, as a keen bettor on European sports, I was pleased to see a fine range of odds and markets on soccer, notably the Premier League and even darts.
They also have the customary cash-out feature on certain bets, so you have the option of taking a portion of your potential winnings, removing the risk of a last-second disaster. Kyler Murray's Hail Mary against the Buffalo Bills in the 2020 NFL season springs to mind.
To go along with their odds boosts, Caesars Sportsbook continually provide their customers with an outstanding range of promotions. The one that caught my eye more the most was their Monday Night Millions game. You had to opt-in ahead of the 2021 NFL season, but it gave customers the opportunity to bet on 17 Monday Night Football games and ESPN's Wildcard Round game.
By placing a simple $10 bet you had the opportunity to win up to $10m by guessing all 18 games correctly, although there are also prizes for the winner in a specific state and for four, eight and 12 correct predictions in a row. Elements like this make Caesars Sportsbook stand out from the crowd.
Vig/Juice Comparison
Caesars are largely consistent when it comes to juice levels as they don't have a major market across NBA, NFL, and the NHL where they trail significantly behind their main competitors and never go above 4.6%.
A lowly 3.9% on NHL moneyline markets makes them the option on the market, so if you're on the Edmonton Oilers bandwagon you should definitely be making use of this. The 4.1% juice on the NHL spread market is also good value as it's among the best on the market, so they are certainly a good option if you're a fan of ice hockey.
So, you can be safe in the knowledge that you're going to get good value for the major markets on the NBA, NFL, and NHL.