Depositing and Withdrawing
The DraftKings sportsbook reassures me that it's 'quick and easy' to withdraw my winnings. Good to know, although their own FAQs also say that withdrawals can take up to five days to reach your bank account or PayPal, which I think is a stretch to call quick.
The positive news is that you can choose from a wide range of payment methods, and if you're in New Jersey, you can make a withdrawal in person from the Cage at Resorts Casino in Atlantic City. Here's the full list of available payment options:
Online banking
Visa, MasterCard or Discover credit and debit cards
Electronic gift cards
DraftKings prepaid cards
PayPal
Play+ prepaid cards
Cash deposits at certain locations
VIP e-checks
Wire transfers
For withdrawals, you can expect your funds to reach you in the following timescales:
| Withdrawal method | Expected time |
| --- | --- |
| Cage (only NJ) | One hour |
| Wire | Up to 48 hours |
| Play+ | Two to four days |
| PayPal | Three to five days |
| Online Banking | Three to five days |
| ACH | Three to five days |
| Check | Depends upon the amount, e.g. up to three business days if $2,000 or greater |
I like that DraftKings keep the sign-up process simple, and they don't ask you to provide unnecessary personal information. They only ask for your basic details (name, address, DOB) and verification of your SSN. Once you've confirmed your location, you're good to get started.
As is standard in the industry, you can access DraftKings' responsible gaming policy by clicking the logo in the website's header. You can set daily, weekly, or monthly deposit limits, wagering limits, time limits, and you can self-exclude. It's important to note that DraftKings makes it easy to access the tools to set these limits, but I'd like to see more options to monitor your spending, like FanDuel's Reality Check, which reminds you of the time and money you've spent.
The Mobile App
If you're using the DraftKings sportsbook on the go, their app is way better than playing through your mobile browser. The layout is cleaner in comparison and provides quick links to different sports on the home screen, which makes it easy to jump to specific markets.
The app otherwise does an excellent job of bringing the DraftKings betting experience to mobile. You can tap the screen to pick a line, and it will be prominently highlighted, so there's little chance of making the wrong pick by mistake. Your betslip will pop up at the bottom of the screen when you make at least one pick, as it does if you were to play through your mobile browser, and it's then a quick process to place your bets.
One thing to note is that sports betting apps are prohibited in many states, so if you want to bet through the DraftKings app, you'll need to be in one of the following locations: Arizona, Colorado, Connecticut, Illinois, Indiana, Iowa, Michigan, New Hampshire, New Jersey, Pennsylvania, Tennessee, Virginia, West Virginia, and Wyoming.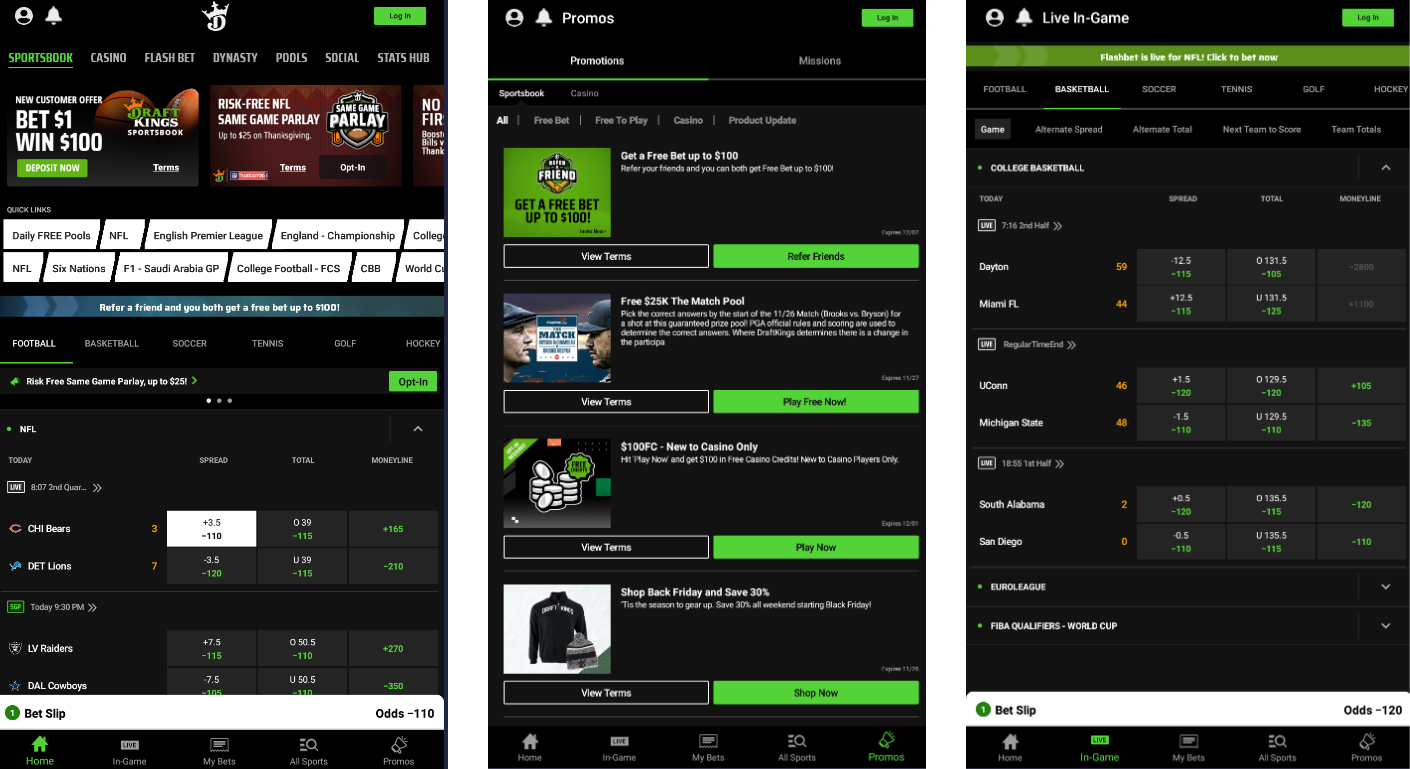 Regardless of where you're located, you won't be able to find the Android app on Google Play, so you'll need to download it manually from the DraftKings sportsbook website. It's easy to install and there are instructions to help, but many of their competitors have now made their apps available on Google Play, so DraftKings needs to catch up.
If you're not in one of the permitted states, you may still be able to download and install the Android app but you won't be able to sign up for an account, as you won't get past the geolocation checks during the registration process.
If you are in one of the states above, you'll be able to download the app to iOS devices directly from the App Store. At the time of writing, the app has a 4.8 score from over 250,000 ratings, so it seems that users have had an overwhelmingly positive experience with it. The availability of features like FaceID helps, as does the fact that the developers have clearly designed it with iOS devices in mind, rather than simply stuffing the mobile sportsbook into a native app. If there's one reason that I'd suggest using DraftKings over other sportsbooks, it would be their app.
Betting Options
DraftKings is strictly middle of the pack when it comes to the range of sports and markets it offers. You'll find all major US and European sports, which is to be expected, and there's a lot of depth in the markets they offer for these. For example, the basketball section boasts betting options for the NBA, college basketball, the EuroLeague, and the EuroCup. Markets include individual games, as well as player bets on top scorers, number of points or rebounds, and so on.
Outside of the mainstream sports is where DraftKings falls behind. They offer no markets for sports such as Aussie rules, badminton, cycling, and lacrosse, which are niche sports but notable by their absence, especially when they're easily accessible on other sportsbooks.
For the sports they do offer, you'll find a good variety of markets. For the major sports this includes many different props and parlays, as well as standard moneylines and futures. If your focus is on the major leagues and nothing else, there's certainly a good amount of choice in the markets on offer.
Vig/Juice Comparison
So now you know the markets you can find on DraftKings, what sort of cut can you expect the sportsbook to take? I looked at a sample of NFL, NBA, and NHL odds to find out how their juice levels look compared to their competitors.
DraftKings are middle of the pack when it comes to the vig on their NBA markets. On the specific bets I looked at, they have a hold of 4.2%-4.5%, which is the same as most of their competitors. The best alternative I could find was SBK sportsbook, which has a vig of 4.0% on its Spread bets, compared to DraftKings' 4.5% - not a significant difference.
It's a different story when it comes to DraftKings' NFL markets. The vig there is 6.3% on Over/Under bets, which is higher than any other sportsbook. Looking at SBK, it's half that (3.1%) and on Pointsbet it's 3.4%. That equates to a noticeable real-term difference.
I was therefore surprised to see that it's the opposite for the NHL, where DraftKings is leading the market in some areas. Their vig on Spread bets is 3.8%, matched only by SBK and ahead of any other sportsbook. Over/Unders are also competitive, with a big gap in some cases: for example, it's 4.2% on DraftKings compared to a huge 8.1% on Pointsbet.
So it turns out that DraftKings is a great place for hockey bettors to find themselves. Not only does the sportsbook offer a better selection of markets than their competitors, but they also won't take a huge cut if you decide to bet. You're not really going to notice a difference when it comes to NBA betting, but I'd suggest comparing odds from other sportsbooks if you're interested in the NFL.