Depositing and Withdrawing
Now comes the checklist part of my breakdown of BetMGM. You will need to enter the following information to register an account with BetMGM, otherwise, you cannot bet.
Name
Age
Address
Email
Phone Number
Social Security Number
Once you have entered this information you will then be asked to enter your financial information to allow you to deposit funds, which can be achieved through a variety of methods. These can include:
ACH e-check
BetMGM online Play+
Cash
Credit card
Debit card
Online banking transfer
GameOn
PayNearMe
PayPal
Promocode
Skrill
VIP Preferred
You will be asked for a minimum deposit of $10 during the transaction process, although this could be higher based on your chosen method. The majority of these transactions are instantaneous for the different methods, although Skrill payments may take up to 24 hours to process.
I think there's a fair amount of coverage of a variety of payment methods. It certainly seems to be in line with a number of betting sites and allows you to get down to business very quickly.
According to the BetMGM Sportsbook site, you will be able to use the following methods to withdraw funds from your account, with the minimum amount required being $20.
| Withdrawal method | Expected time |
| --- | --- |
| Visa | Within 24 hours |
| Paypal | Within 24 hours |
| Bank Transfer - VIP preffered | 2-4 business days |
| Bank Transfer - Online banking | 2-4 business days days |
| Bank Transfer - Instant banking | 2-4 business days |
| Prepaid Card | Within 24 hours |
| Cage - (NJ, MI & MS) | Within 1 hour |
| Skrill - (NJ) | Within 24 hours |
BetMGM Sportsbook appears to promote safe gambling to protect its customers. They provide their users with the opportunity to limit their betting stakes by putting a deposit cap on their accounts. Users can also take time away from gambling by clicking the time out button on the website or app or even to close their accounts. However, these tools can all be found on other major sites such as DraftKings. FanDuel goes even further as they have a third-party exclusion request for anyone worried about someone's ability to limit themselves, so BetMGM Sportsbook needs to do more to protect players.
In the event that you do have an issue with BetMGM, I discovered that they have solid customer support options. They have a 24/7 live chat to contact them regarding issues or through email.
The Mobile App
To be clear, I have an Android phone and have used the BetMGM Sportsbook app on that device, where I found it to be lacking compared to competitors such as FanDuel.
I did find the app to be reliable, which allowed me to bet freely. Most features were relatively easy to find such as markets and the deposit and withdrawal functions. However, speed is an issue as the app can be really slow to load, and the overall functionality does need to be improved, which echoes the criticisms on Google Play Store. Hopefully, this will be improved quickly to allow Android users a smoother betting experience as the iPhone version ranks quite highly among betting apps, with a score of 4.8 out of 5.0, and is among the best in the market, so they clearly know how to produce a well-designed app.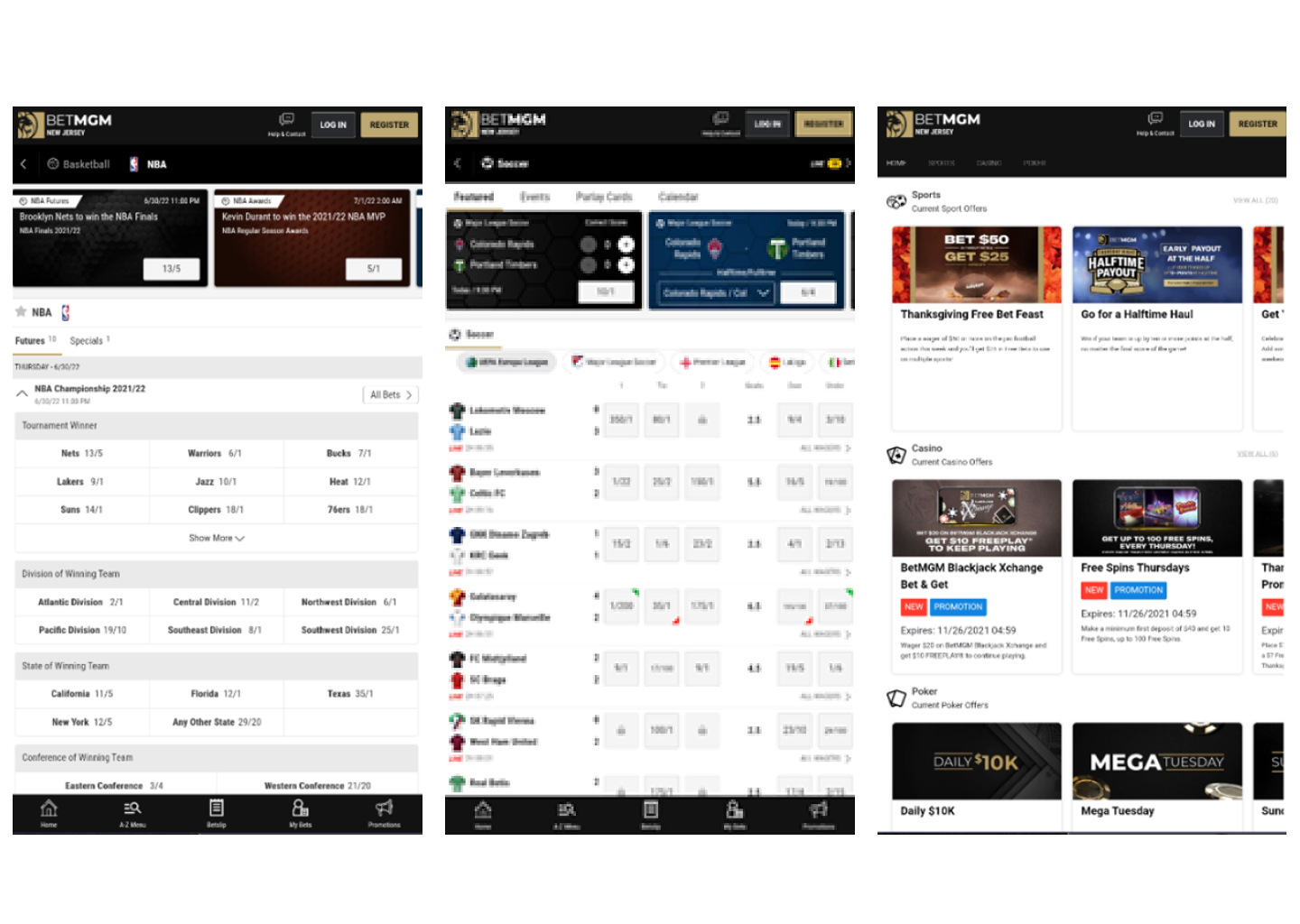 A key topic you should be aware of is the fact that mobile betting is not legal in all parts of the United States. Therefore, you need to know whether it is legal to download and bet. Mobile betting is legal in Arizona, Colorado, Indiana, Iowa, Michigan, Mississippi, New Jersey, Ohio (horse racing), Pennsylvania, Tennessee, Virginia, Washington DC, West Virginia, and Wyoming.
Betting Options
Diversity and Parlays
One of the aspects of BetMGM Sportsbook I appreciated more than most was the diverse range of markets not only for the major US sports, but also on soccer, tennis, cricket, rugby, and Aussie rules football. You don't find that range of depth across many betting sites, including DraftKings.
I would recommend BetMGM on the strength of their odds boosts for the NFL alone. They provide a great range of offers as was evident on Thanksgiving. Those boosts are always provided over the course of the season, as well as on the NBA, NHL, and MLB.
I particularly enjoyed their parlay insurance for NFL parlays over four games, which offers you money back if one of your selections fails. There's nothing more frustrating than a parlay that loses because of one team, usually the Cincinnati Bengals... Shakes fist. These are also available for college football, NBA, and Premier League betting, the latter especially appeals for those soccer lovers.
Special Features
BetMGM provides streaming for select NFL, NBA, and NHL games on a daily basis along with other major leagues from around the world.
Cash-out options are available only in New Jersey and West Virginia, which allows the user the option to withdraw winnings from a potential successful bet before the end of the contest(s) that their wager involves.
Its range is currently restricted, but I hope that this will become commonplace in BetMGM's offerings across the United States. It is a common feature that is provided by their competitors and they should be aiming to match them across the board.
Vig/Juice Comparison
When it comes to juice levels, BetMGM is similar to its major rivals as they seem to average around 4.5% across the moneyline, total, and spread markets across the NBA, NFL, and NHL. Moneyline betting on the NBA is where they provided the best value as the vig levels drop to 4.2%. However, anyone looking to bet on total markets for hockey should probably look elsewhere as the juice level rises to a steep 5.7%.
As you can see, this isn't an area where they stand out as they aren't the best option for any of the markets, so they don't provide good value overall. This is certainly something they need to improve on if they want to be a more attractive option.